We have created an atmosphere where everyone is welcome, can feel at home, and share a piece of our heavenly Longridge Wine Estate.
 Father's Day ~  19 June 2022
Celebrate Father's Day with us!
Come and enjoy our spectacular views with a 3 course set menu for only R350pp.
The award winning Longridge restaurant lies at the foot of the Helderberg mountains, overlooking moonlit vines and breathtaking views of the False Bay Peninsula and Table Mountain.
All the ingredients used in the Longridge Restaurant are organic and free range. We believe in food that is unpretentious, healthy and delicious.
To avoid disappointment, reservations are recommended.
Our restaurant follows a farm to table philosophy. Vegetables are sourced daily from our own gardens and all produce used in the kitchen is handpicked from local vendors.
Our Executive Chef pairs this innovative vision with the estate's large selection of specially matured vintage wines.
To avoid disappointment, reservations are recommended.
BREAKFAST, LUNCH, DINNER
& SPECIALS
Our menu follows a farm to table philosophy with only the freshest seasonal produce from our organic kitchen garden, SASSI approved fish, beef from our own farm and other produce sourced from our neighbours.
All our menus include vegetarian and vegan options.
Breakfast – 8h30 – 11h00
Lunch – 11h30 – 14h30
Dinner – 17h30 – 20h30
*KITCHEN TIMES*
Mondays – Closed
Tuesday – 11h30 – 22h00
Wednesday – Saturday – 8h30 – 22h00
Sunday – 8h30 – 17h00
Come and enjoy our 2 local artists this weekend as they each prepare a 3 hour set of breath-taking music.
Live music will be postponed until further notice.
Saturday – 13:00 – 16:00
Sunday – 13:00 – 16:00
BECOME A VIP MEMBER OF LONGRIDGE RESTAURANT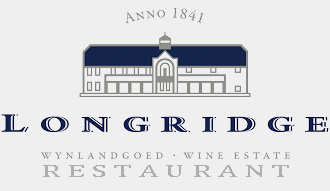 SPECIAL DEALS – DISCOUNTS – REWARDS
Join our VIP members club and receive exclusive Special, Discounts and Rewards, all year long.
Members can register and pick up their members cards from the Longridge restaurant.
Subscribe to our newsletter and receive updates on events, food and wine specials at Longridge.
DISCOVER LONGRIDGE RESTAURANT